Online payslips and net pay calculator
Coroni Technology has extended the capability of its Reflex product by offering employees two new services.
Online payslips and a net pay calculator are now available through Reflex.
Net pay calculator available on TRS and benefit selection
A net pay calculator is available to employees while modelling their choices or examining existing choices on a Total Reward Statement. The calculator examines the tax and NI contributions due for each benefit, including benefits in kind reported on P11D, and determines the effect the choices would have on employees' take home pay.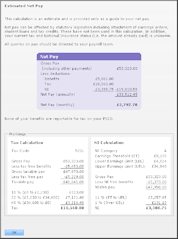 Conforming to HMRC statutory legislation, the calculator is used by employers operating annual, monthly, weekly and fortnightly tax regimes. The calculator's rules are managed through statutory upgrades to ensure it is up-to-date with current tax legislation
Along with the new net pay calculator, Coroni has released an online payslip facility which enables employees to review current and previous payslips at any time.
Online Payslips
Coroni developers have many years' experience of payroll procedures and software, having developed payroll software for some of the UK's leading payroll providers.  The payslips are displayed in an easily understood format and include balance items, period by period.