Penetration Testing
Coroni Technology regularly has its Reflex applications security tested by recognised security specialists.
The most recent tests were undertaken by Selex and IRM on behalf of clients and together with earlier tests by the NCC and clients' own in-house specialists ensure the software is protected to rigorous standards against the latest threats.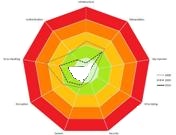 Information Security Director, David Milford, responsible for the latest results, explains
Regular, rigorous testing is important to ensure we guard against new threats as well as maintaining the highest standards in development
The testing organisations used are accredited by the UK Government as meeting the benchmarks laid down in its Information Security Standards and Procedures. This endorsement gives data protection assurance to Coroni's clients including major financial institutions and Government departments.
The objectives of the latest tests are:
to check for vulnerabilities
to assess the risk of general hacking for potential financial reward
to ensure one client cannot see another client's data
to ensure there is no escalation of privileges due to errors in a product
The tests found no serious infrastructure or application vulnerabilities