BizFlakes Portfolio Expands
Two new modules are added to the BizFlakes suite as its successful roll-out continues.
BizFlakes has been selected by 14 clients to manage benefits, absence and pension auto enrolment since its launch in January 2014. Those clients' demands for new modules to enhance their employee self-service offering are being delivered.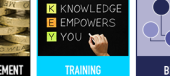 A training module, used to manage training requests and bookings for continuous professional development, is favoured by a city law firm and a Midlands financial services provider, while a new Notes module delivers document management to a property services client.