Video software sign up
A market-leading supplier of video software becomes first client of a new Coroni partner.
The business, which develops software solutions for digital video presentations, has chosen BizFlakes from software provider Coroni Technology to present total reward statements to its workforce.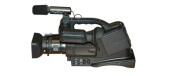 BizFlakes provides an employee self-service portal for personal HR data such as addresses, contacts, dependants, diversity as well as job-related information such as work patterns, employment eligibility, salary and reward.
The service will be the first to be administered by Coroni's latest reseller, independent health insurance provider, Excellect.