Salary Sacrifice Sacrificed?
The Chancellor outlines salary sacrifice changes.
In his first, and last, Autumn Statement, Chancellor Phillip Hammond announced the end to many benefits currently offered to employees under salary sacrifice arrangements.  Under salary sacrifice arrangements, employees agree to have their salary reduced in return for certain benefits.
…some are able to sacrifice salary and pay much lower tax… this is unfair
The Government had previously announced a consultation on salary sacrifice and has yet to report on the outcome. Nevertheless the Chancellor pressed ahead with the Government plan which aims to bring funds into treasury coffers.
The benefits are in effect bought out of pre-tax earnings and therefore reduce the NI contributions and tax.
Higher rate tax payers will save more than basic rate payers, while additional rate payers have most to gain.
Employers' NI contribution is based on the same earnings, so the employer pays less too and will often pass on some or all of the saving to employees, making salary sacrifice even more attractive.
…most salary sacrifice schemes will be subject to the same tax as cash income
The Treasury says salary sacrifice is unfair because the majority of UK employees pay tax on a cash salary…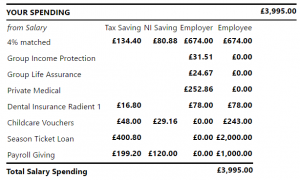 …but declares some schemes will remain exempt…
Pension contributions
Pension advice
Childcare voucher schemes
Bike to work schemes
Ultra-low emission cars
..while existing benefit schemes will be exempt until April 2018 and school fees, cars and accommodation will remain for a few years after that.