HEK Rewards use BizFlakes
HEK Rewards provide solutions and products for clients to add loyalty and rewards into their business. Now those services are supported by the BizFlakes product suite.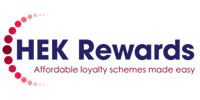 Based in the East Midlands, HEK Rewards specialise in both employee and membership groups with reach across the UK. They service SME's through to large membership bases with value added benefits and/or adhoc and structured reward and recognition solutions.
Whether you are looking to incentivise or motivate your workforce or reward your most loyal customers, we have the right product for you.