The most
robust & functional

benefits system

A web-native, self-service benefit enrolment application, combined with a comprehensive administration tool, offering sophisticated benefits modelling capability through an exceptionally simple and clear user-interface.
FLEXIBLE BENEFITS
Administration
The application includes elegant business processes for the definition of scheme rules and the set up of benefits.
Definition of all types of benefit is supported. From core benefits, such as pensions, life assurance, medical care and company cars, through to voluntary benefits such as travel insurance, childcare and retail vouchers, PC purchase and buying or selling holidays.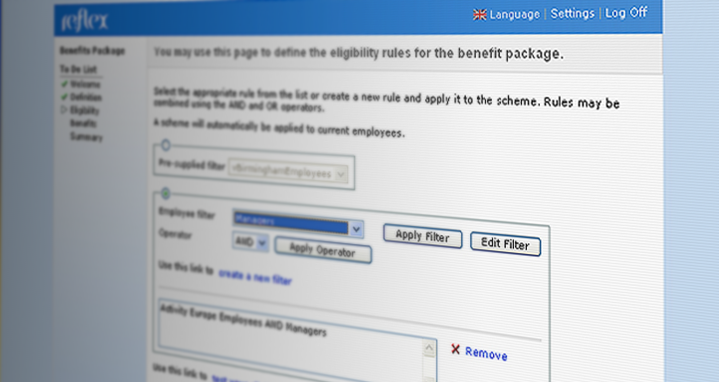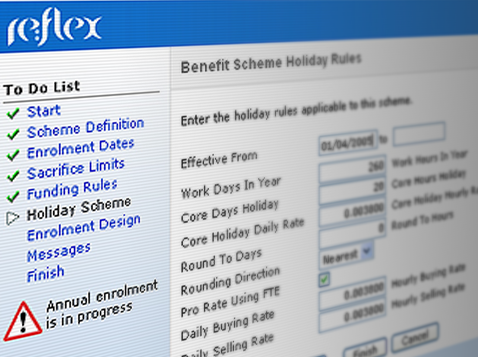 FLEXIBLE BENEFITS
Enrolment
Employees are presented with their benefits choices through a secure, online benefit-modelling tool. Hyperlinks to web sites, company policy documents and intranet web pages combined with an on-screen calculator give employees all the information they need in one place.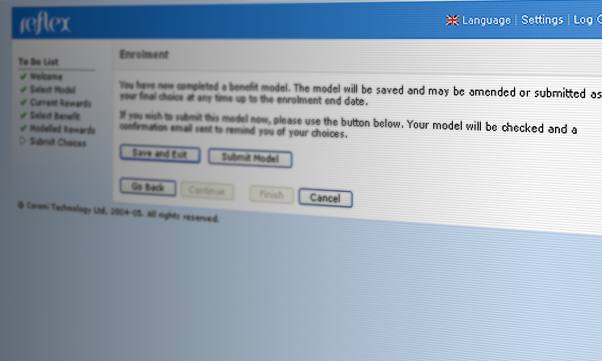 Many organisations provide their employees with a Total Reward Statement. These statements give a full breakdown of benefits, including:
– Salary, bonus and commission payments
– Employer-funded and voluntary benefits
– Non-cash benefits, such as flexi-hours and free parking

Although the Total Reward Statement technology is included in our Flexible Benefits application, it can also be supplied separately to run standalone or, more typically, as an early phase of a full Flexible Benefits implementation.
TRUE VALUE
The Total Reward Statement shows an employee their full value to the company and the true cost of employment.
UP TO DATE
It is available to the employee at any time, is always up-to-date and a copy can be printed for the employee's own records.
Absence
Absence enables employees, managers and administrators to request and authorise absences. It includes a fully historical absence calendar for individuals or teams.

The administration module is used to configure the customer's holiday and sickness rules. It covers the following functional areas:
HOLIDAY SCHEME MANAGEMENT
Definition of a holiday scheme and its rules such as entitlement rates, statutory and company holidays and workflow authorisation rules.
GROUP MANAGEMENT
Definition of employee groups and absence rules related to those groups.
ABSENCE SCHEME MANAGEMENT
Definition of an absence scheme and its rules such as sickness categories rates, workflow authorisation rules.
EMPLOYEE MANAGEMENT
The management of employee absence rules including association of employee with group or individual absence rules such as entitlement, line manager or administrator recording of absences and workflow authorisation.
Pension calculator functionality is the perfect accompaniment to the Flexible Benefits application and covers the following functional areas:
PENSION CALCULATION
Forecast a likely pension given existing funds, current contribution rates. The calculator will show four scenarios, each with or without a tax-free lump sum payment:

– Single Annuity
– Joint Annuity
– Single, Escalating Annuity
– Joint Escalating Annuity
PENSION MODELLER
Perform what-if pension modelling to estimate changes required to existing contributions to achieve a target pension payment on reaching retirement age. The modeller takes into account existing pension funds and retirement age.
Employee Share Trading
Reflex share trading application with the trade name, Equity, comprises a number of modules to manage the allocation, ownership and trading of a company's shares by its employees.
AWARD YEAR
Allows the definition of the award rules, trading rules and share prices for the scheme year, including trading limits, multi-currency share price and dividend payments.
AWARD TYPES
The definition of a type of share award and its rules such as employee eligibility, vesting and trading limits.
SHARE AWARD
The processing of gifted and performance-related share awards including rules for vesting and employee share or cash allocation where employees may opt to take a bonus in the form of shares and/or cash.
GIFTED AWARDS
General share awards made to new starters or all employees as a loyalty incentive.
PERFORMANCE AWARDS
Share awards tied to performance. Shares may be allocated on the basis of individual, team or overall company performance.
SHARE TRADING
The management of employee share trading requests – buying and selling shares within the business – and administrator handling of requests through new allocations or company buy back.
SHARE VESTING
The definition of share vesting rules for the deferment of share ownership, a mechanism to encourage loyalty to the business by the ownership of shares over the term of employment.
SHARE DIVIDENDS
The management of dividends paid on owned and accrued on vesting shares.